Submitted by

Heather Rumble

on Thu, 28/01/2016 - 22:57
On 29 September 2020, the Welsh Government announced that the Conwy County Borough (in which the ULMC Caseg Fraith Hut is located) would go into lockdown as from 6.00pm on Thursday 1 October.  Welsh lockdowns, unlike English ones, do not allow anyone to enter or leave the lockdown area without "a reasonable excuse" and staying at accommodation to walk or climb is not regarded as a reasonable excuse.  The ULMC Caseg Fraith Hut will therefore be closed with effect from 1 October 2020 until such a time as the Conwy lockdown is lifted. The Welsh Government will be reviewing lockdowns every two weeks, in the light of COVID-19 infection rates.
Because of the COVID-19 pandemic, the Caseg Fraith Hut was closed from 18 March until 30 July 2020, and was then opened for single extended households of up to 6 people (children under 11 do not count towards this total) making weekend and long weekend bookings (Thursday/Friday - Saturday/Sunday nights) or longer 9-11 night stays (spanning two weekends) until 27 December 2020 (or until the current rules are relaxed).  Bookings, on this basis, can still be accepted but will only be allowed to go ahead once the Conwy lockdown is lifted and Welsh Government rules permit.
Bookings from individuals, small and large groups are provisionally being taken, as normal, for dates after 1 January 2021, but will only be allowed to go ahead, if Welsh Government rules permit.
For more information about bookings, to see current availability and to make a booking request, please click on the link at the bottom of this page.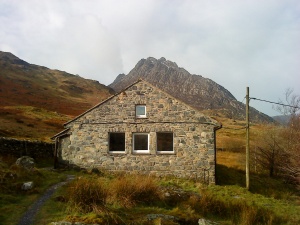 Caseg Fraith was pupose-built in 1960 for the University of London Mountaineering Club (ULMC) and is situated 3.5 miles north-west of Capel Curig, just south of the A5, near the top of the pass between the Llugwy and Ogwen Valleys in Snowdonia. Situated near the base of Tryfan, it is ideal for walking on the Glyderau, Carneddau and Moel Siabod and for climbing on Tryfan and in Cwm Idwal. With transport, Llanberis, Cloggy and Tremadog are also within reach. Just bring your food, clothes, washing kit, a towel and a sleeping bag and pillow!
The hut is managed on behalf of ULMC by trustees and volunteers from its sister (or perhaps mother) club, the University of London Graduate Mountaineering Club (ULGMC).
Caseg Fraith is a large hut, sleeping up to 46 people in Alpine style bunks when exclusively booked, but individual dormitories or beds can also be booked. The hut boasts electric cooking, electric lighting, foam mattresses, running water, flush toilets and showers.  
Facilities
Sleeping - Three alpine style dormitories (two with 20 beds and one with 6 beds). Built-in bunks with mattresses only. Bunk space available for parties of up to 46 people
Cooking - All electric - 16 hotplates, two ovens, two grills, a microwave. Two large larder fridges, small freezer. All pots, pans, cutlery, crockery, tea towels, washing up liquid etc. provided
Eating - Large kitchen/dining room
Heating - Electric central heating. Coal fire in snug sitting room
Sanitation - Three flush toilets. Three washbasins and two showers. Immersion heater for water heating.  Toilet paper and cleaning materials are provided.
Telephone - For incoming calls and outgoing calls to freephone and emergency numbers only.
Internet - The hut has WiFi with Internet access via broadband and a 4G mobile data back-up.  But because of its rural location, bandwidth is rather limited.
Access by road with limited parking for 8 vehicles in car park.  Parking places are strictly limited in our lease.  Please note access to the hut is via an unpaved track.
Further information for hut users can be downloaded from the links below:
Location
Address: Caseg Fraith, Capel Curig, BETWS-Y-COED, Conwy (postcode ommitted as GPS will lead to a wrong location)

6 Figure Grid Reference: SH 683 601

10 Figure Grid Reference: SH 68381 60116

Eastings/Northings: 268381, 360116

Latitude/Longitude: 53.1219°, -3.9683°

What3Words: crescendo, dance, outermost

Google Maps: Click here.
Booking
To view booking options, conditions and availability and to make an online booking request, please click here.